The Longboard Blog
Posted by The Longboard Store | Grace Seelye on
Downhill longboarding has become unquestionably desirable, and the search for longboards that can reach higher speeds has been covetable.

What to look for:
-Longer longboard
-Deep concave
-Top Mount *optional*
-Hard Bushing
-Large Wheels
More downhill options here.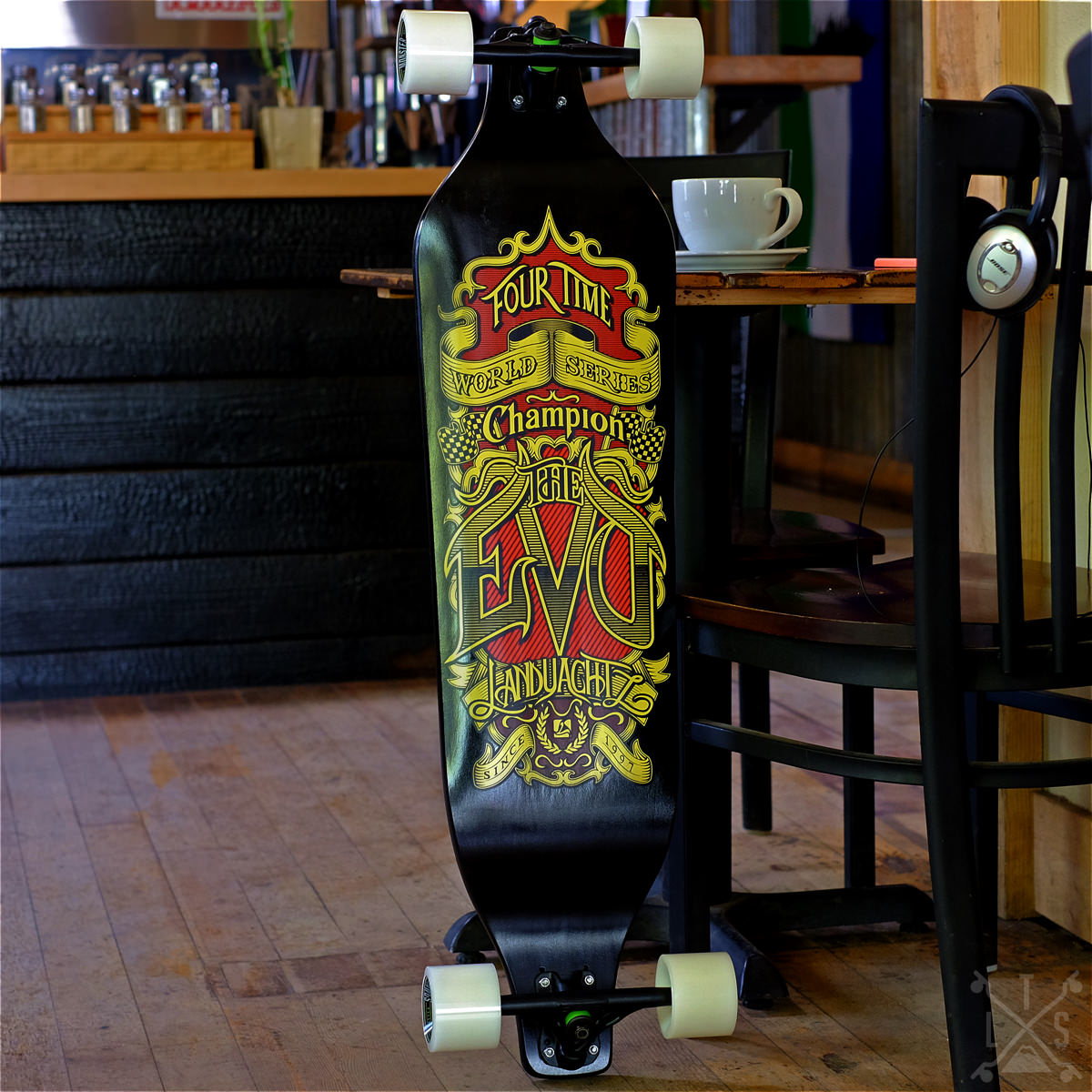 4 time World Series Champion, the Landyachtz 39" Evo.
The Moonshine 38" Hooch Green.
The Madrid 37" Gentleman Halberd.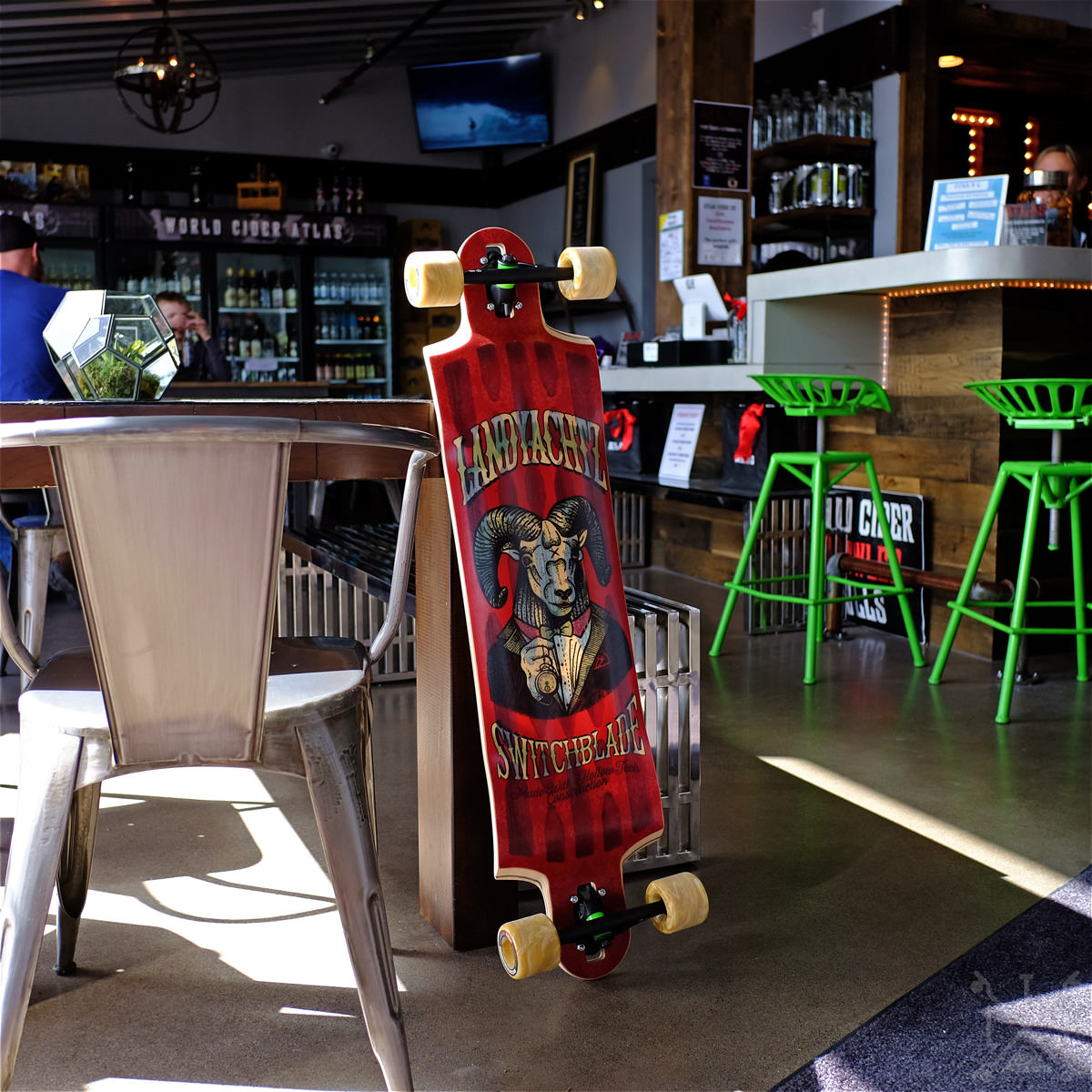 The Landyachtz 40" Switchblade.
Though downhill and freeride do come hand-in-hand; for those who would like a downhill / freeride longboard, you will need to consider these other features for the best slides.

-Harder wheels (78a and higher)
-Smaller wheel (65mm and smaller)
-Shorter longboard
-Hard Bushings
More freeride options here.
The Moonshine 32" Spark.
The Loaded 37" Overland.
The GoldCoast 38" Drop Through Zebra.
The DB 36" Lunch Tray.
Nevertheless, you can make any longboard/skateboard slide, but a shorter board will be able to slide easier, harder wheels will stick to the concrete less.
Now that it is officially springtime, it is time to start planning your summer adventures. No need to turn on the A/C when you have the breeze blowing through your hair!These shorter boards will let you breeze past those daily car commuters, and have quick control in urban settings.Easy and compact that you can take [...]
Longboards are commonly seen with symmetrical, directional, or asymmetrical shapes. These are seen through every style of skating, including cruising, carving, freeriding, dancing, and downhill.Symmetrical boards are the same on both ends. They can be ridden either way and don't have a front or back. These are popular with riders who skate "switch". Directional boards [...]
It's time for you new years resolution, here's why learning to longboard should be on you list. Cardio:Even for the most fit skater, pushing is a work out. 30min of skating is better than 30min in a gym on a treadmill. It smells better too. Flexibility and Strength:Skating will help you stretch your hips and ankles [...]
Before each skate session, you should always check your gear. This lowers the risk of having loose or worn equipment breaking while you ride.First, check your mounting hardware to make sure it is tight and clean. Loose hardware interferes with your control and handling. If your hardware is loose, use a skate tool to tighten. [...]
First off, welcome to to the world of skating! Wether you're look looking to cruise across campus or become the next world champion, the skate culture has a place for everyone. It may not be easy in the beginning, but patience and practice will get you comfortable on a board in no time.You're going to [...]
6 Combo Packs Protecting5 Bones Bearing Premium Tune Up Kit4 Wheels a Rollin' 3 Feet of Grip Tape2 Trucks a Trucking1 Deck Under The TreeIf you need help picking out the right gift, give us as call at 541-306-6829 or email us at questions@thelongboardstore.com.
12 Socks A-Warming 11 Abec 11 Wheels A-Spinning 10 Stickers Sticking 9 Hardware A-Tightening 8 Bronson Bearings Rolling7 Sets Of Bushings Catch Part Two in our Blog this Friday for more ideas!!
Choosing the right longboard revolves around the style of skating you want to do. Click on the style you like to see our recommended boards. Cruising - Very popular among commuters, students, and beginners. It is also a great way to learn the foundation of skating.Carving - Great cross training for snowboarding and surfing.Dancing / Freestyle [...]
To make holiday shopping easier for you this season, we've made a list of simple stocking stuffers for the skater in your life. Bearings:We love the feeling of fresh bearings. They're fast, smooth, and should to be replaced once a year. Bone Bearing Tune Up Kit:This tune up kit has bearing cleaner, bearing lube, grip tape cleaner, [...]